News & Events
ADK Hospital will be conducting a routine maintenance upgrade of our IT infrastructure tonight from 00:00hrs to 01:00.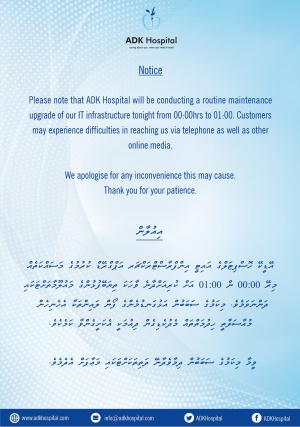 Patient Safety Awareness Week is an annual recognition event intended to encourage our staff and patients to learn more about health care safety. This Week started on 10th March and ended on 16th. ADK Hospital Patient Safety Committee had organized variety of activities to celebrate this week.
July 17, 2023 - ADK Hospital, in collaboration with Waldives, is delighted to announce the successful inauguration of the Intraoperative Neurophysiological Monitoring (IONM) Workshop.

June 1, 2023 - ADK Hospital is thrilled to announce the launch of the highly anticipated Maldives Brain and Spine Conference 2023, set to take place from the 23rd to the 26th of October at the prestigious Villa Nautica.