The Golden Award for Quality and Business Prestige
July 22, 2013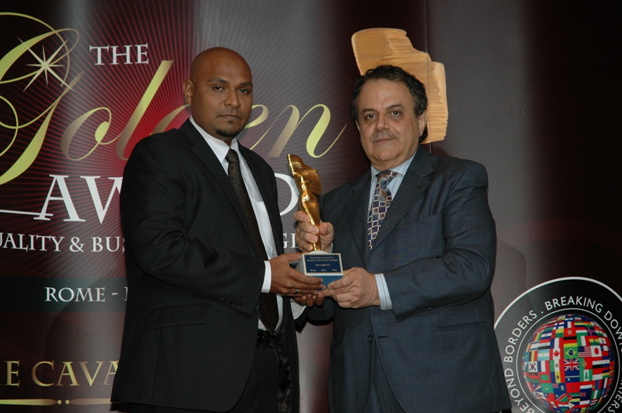 In recognition of the management system, communication and rapid development as the leading private Hospital in the country, ADK Hospital recently received 'The Golden Award for Quality and Business Prestige' from the French-based 'Otherways Management and Consulting Association' at a glittering awards ceremony in Italy.
ADK Hospital has been working tirelessly to provide the best care and services to all its patients and this award is proof of this effort by the Hospital to improve the quality of services and meet customers' expectations.
The awarding ceremony took place in Rome, Italy. ADK Hospital was represented by Abdulla Shinah, Chief Operating Officer, at the gala dinner which was also attended by the authorities and diplomatic corps, and awarded companies of 'The Golden Award for Quality and Business Prestige' from over 56 countries.
ADK Hospital has been a leader in innovative services, using modern technology and social media platforms, and opening various communication channels to reach out to its large base of customers.
The Golden Award for Quality and Business Prestige is presented to each company in recognition of their corporate achievements and to recognize advancements in innovation, quality and technology. For this purpose, a voting process is carried out by mail, Internet or within awarded companies, based on one of several concepts such as customer satisfaction, leadership, continuing education and trading, business results, ISO 9001–14001-22000, TQM and TQCS (Top Quality Customer Satisfaction Standards). In addition to the voting process, the association gathers information through consultation of the media, consultancy companies, advertising agencies, trade fairs and exhibits, official authorities and online polls to make the final decision to select the annual awardees.
This award represents another 'feather in the cap' for ADK Hospital as it celebrates 26 years of successful operations in the Maldives. Winning this prestigious award stands as a testament to the ADK Hospitals commitment towards Healthcare 'excellence' and its steadfast dedication towards the wellbeing of the community.